An Illinois company that sterilizes medical equipment claims it releases about 200 pounds of ethylene oxide emissions per year, but as recently as 2015, the company released about 3,000 pounds, its president acknowledged.
Philip Macnabb, president of Sterigenics, said the company would work to limit ethylene oxide emissions. Despite the pledge, many attendees of a community meeting at a local middle school urged the company to shutter its facility until it makes improvements, an overture Macnabb declined.
In 2016, the U.S. Environmental Protection Agency determined that the risk of long-term exposure to ethylene oxide is more significant than previously believed. Sterigenics' Georgia facility sits between Atlanta and Smyrna in an area the EPA identified as potentially at higher cancer risks.
"Self-reporting is no longer an option," state Rep. Erick Allen, D-Smyrna, said during a Tuesday night community meeting. "There are multiple people that need to be held accountable."
Representatives from the EPA and the Georgia Environmental Protection Division (EPD) did not attend the meeting but are planning a separate meeting in coming weeks. Lawmakers stressed to the EPD "the failure of communication and notification to the public" as soon as they learned of the emissions numbers, Allen said.
"That is something that we are willing to fix legislatively if we have to," Allen added. "In 2017, when they knew that these numbers came out and they started to take action internally within EPD, there should have been public notification."
A facility at the current location dates to 1972 and predates Cobb County's zoning laws, Cobb County Commissioner Bob Ott said. Even though it sits outside of Smyrna, the city is proceeding with its own independent air testing, City Councilman Tim Gould said.
The meeting at times turned contentious, with attendees repeatedly shouting, "Shut it down."
"If independent tests show that our facility is emitting more than we reported, then we will take steps to address that," Macnabb told the crowd, which met his response with moans of disbelief. Macnabb was vague about what steps the company might take but acknowledged it could have taken steps earlier to communicate with residents.
Sterigenics officials say they outperform 99 percent of ethylene oxide regulatory controls and captured ethylene oxide is converted to ethylene glycol, which can be used for antifreeze or as a coolant.
"This is the perfect storm for things like this to happen," said Leonard Robinson with Sustainable Smyrna. "Everybody's venting their spleen on Sterigenics. They're only doing what the county allowed them.
"Sterigenics says they're a good neighbor," Robinson added. "Well, good neighbors talk to each other, they email each other, they text each other, they have barbeques with each other."
Many in the nearby community said they had not heard of Sterigenics until recent concerns about ethylene oxide emissions bubbled to the surface. Attendees found plenty of blame to spread during Tuesday's meeting, but it is not clear what relief state officials might bring.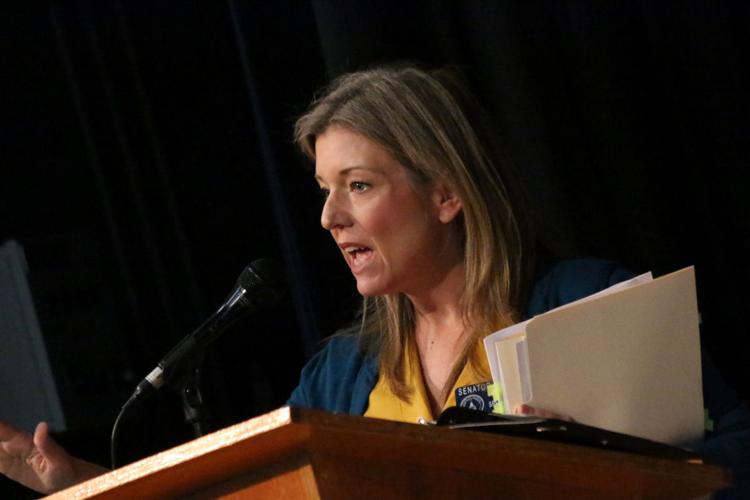 "What we're going to have to do on the local level is come together and get it done," state Sen. Jennifer Jordan, D-Smyrna, told the crowd. "Let's be clear. EPD is not going to come in here and say anything or make this company do anything. It really is going to come down to all of us."
"I think it's got a lot of people's attention," said Janet Rau, who is working to organize a new grassroots group, Stop Sterigenics Georgia.
"I think there's a lot of oversight that was missed, a lot of opportunities to communicate with the public that (were) missed," Rau added. "The upgrade of ethylene oxide from a possible carcinogen to a known carcinogen, that should have set off alarm bells, and it just didn't. Sterigenics absolutely has liability, but it's going to spread pretty far."
This is not the first time or location Sterigenics has come under fire for its ethylene oxide emissions.
In June, Illinois lawmakers approved the nation's most stringent EO emissions laws. The push came following an investigation and the closure of a Sterigenics facility in Willowbrook, Illinois, a suburb of Chicago.